Entrepreneurs In Action
How Panaderia de las Americas Funded a Dream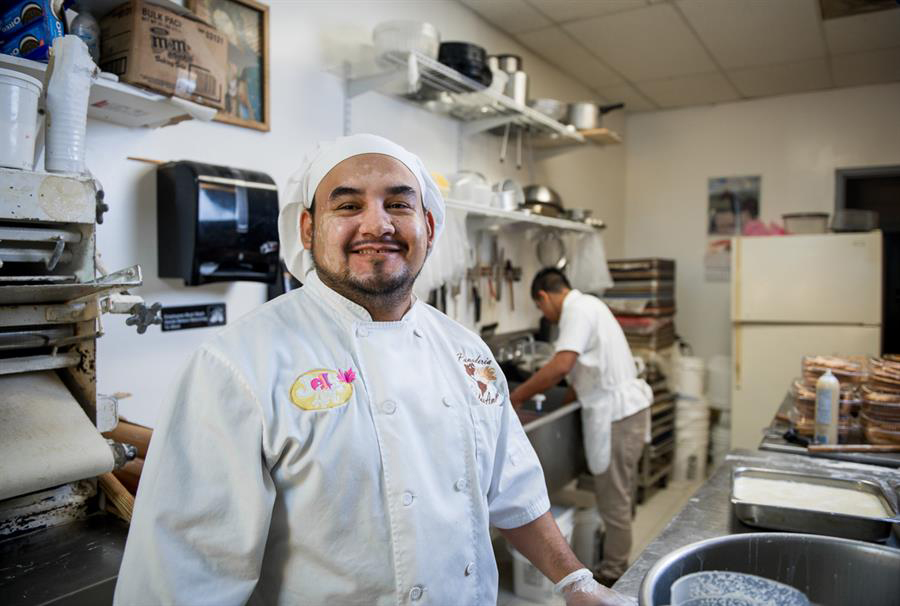 Panaderia de las Americas
Luis Hernandez | Kansas City, Missouri | Main Street
Latin American Bakery
Received a microloan of $10,000 to open his bakery on Southwest Boulevard
One check does not fit all.
While pet therapeutics company Aratana needed $100s of millions to develop medications for cats and dogs before it could bring those products to market, sometimes $10,000 can open the doors to dreams as it did with Luis Hernandez.
An immigrant from Mexico, Hernandez brought more than a decades' worth of experience with him when he opened his Latin American bakery, Panaderia de las Americas in 2013. With a $10,000 loan from Brotherhood Bank and assistance from the Hispanic Economic Development Corporation's (HEDC) Business Development Program, his bakery now offers Central and South American flavors that, until now, couldn't be found in other Kansas City panaderias.
Hernandez first visited the HEDC's office in August 2012, a full year before he opened his business. Like any baker, Hernandez is the consummate planner, knowing firsthand how important it is to get the ingredients, the recipe, and his measurements right.
And he was thorough. Hernandez completed the Operation JumpStart –  PrimerPaso class, took a QuickBooks course at HEDC's BTOP computer lab and received assistance registering his business. All steps to ensure that he launched (or kneaded) his business right, from the start.
Even though it's just a year old, Panaderia de las Americas is a shining example for other businesses and entrepreneurs.
"It's important for us to support microenterprises and Main Street businesses such as Panaderia de las Americas because doing so helps to build the community in more ways that we think," says Michael Carmona, business development specialist at the HEDC. "Today, a new business is occupying a once vacant building, eliminating blight and improving the aesthetics of the community."
Hernandez now works with HEDC's Impacto Fund, Inc., which will provide further funding at the beginning of next year—to the tune of $20,000. To date, HEDC has awarded more than $60,000 in loans to eight businesses. HEDC is currently seeking funds to grow its loan pool.
One taste of a pan dulce will prove to you, Hernandez's business is bursting with sabor.